Kathy Blackburn's singing career is an example of how much fun one person can have in the second half of life if we just let go and enjoy the ride. Shortly before her 50th birthday, Blackburn left a corporate career in Public Affairs to explore life outside the office and found that a lifelong love of music went from serious hobby to full-time passion.
Music columnist and musical mentor Jim Caroompas described it this way: "she had a dream, and that dream required reinventing herself… She shed the skin of her previous life, and embarked on a new journey. It was a breathtaking act of courage, and watching it gave me goose bumps."
"Letting go of a 27-year career was a real trip outside the comfort zone," says Blackburn. "But just as my career was about helping organizations connect with their communities, so is music a way of communicating and connecting with people–just with melody, bling and later nights!"
A Little Bit of Everything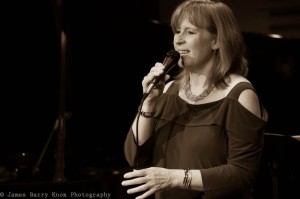 Blackburn did a little of everything in the beginning. She studied voice, theory and performance at the Jazzschool–now, the California Jazz Conservatory–in Berkeley; sang in a Neil Young Tribute Band; fronted her own eclectic band "Rampart Street"; joined Santa Cruz-based "Steve's Jazz Kitchen" as lead singer once a month for two years: and sang at any open mic she could find. She began gigging seriously when she was hired for a series of supper club performances at the Octavia Lounge in San Francisco in 2007 and 2008 and since then, has performed in many of the Bay Area's venues and events including Savanna Jazz, Anna's Jazz Island, Avonova, Pleasant Hill Jazz Festival and more.
Along the way, Blackburn enrolled in the California Jazz Conservatory's (CJC) accredited four-year degree program, and in 2012 received the program's most prestigious vocal award, the Mark Murphy Vocal Jazz Scholarship, awarded to artists who "demonstrate exceptional creativity and artistic promise."
"I wanted to be more fluent in the language of music and attending the California Jazz Conservatory has provided that essential grounding in harmonic theory, improvisation, and composition that makes my vocal choices more intentional and versatile," says Blackburn. Currently she's about halfway through the program, and says she will continue to work toward that "elusive" degree even into "the third half of life" if necessary.
Though singing is her first love, Blackburn has also put her managerial and communication skills to work booking and producing concerts; for example, the City of Dublin's 30th Anniversary Blues Concert featuring Zakiya Hooker, daughter of John Lee Hooker; "C'mon, Get Happy," a scripted concert performed with fellow singer Lisa Lindsley at the Jazzschool; and, a holiday concert series for families for the City of Dublin, CA. She also has transcribed oral interviews with NEA Jazz Masters for the Smithsonian Institution; specifically, Harry "Sweets" Edison and Dorothy Donegan, both of which are on the smithsonianjazz.org's oral histories page. Kathy developed and taught "Singing for Fun" in the Jazzschool's Community program and developed a career workshop for singers called "Managing Your Career in the Moment" which she would love to teach when time and opportunity allow.
And Now–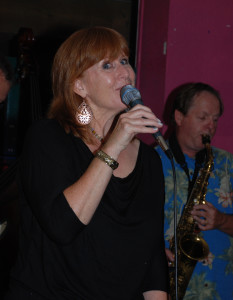 Today, Blackburn concentrates her musical time serving as principal vocalist with the Cooltones, one of the Bay Area's most actively-gigging big bands, and singing with popular jazz quintet Four and More, along with her own duo and trio gigs.  She teaches and produces whenever she can but at heart, Blackburn is a performer and her appeal as a singer really comes out when she is in front of an audience. "Kathy has great rapport with audiences. Fans have come to appreciate her versatile voice and the fun she conveys in all her performances. Our fan base has increased dramatically with Kathy as our vocalist ," says Les Duman, musician and manager, the Cooltones big band.
In April, 2014, Kathy was recognized for musical excellence at CSU East Bay's Annual Jazz Festival when she received one of only two Outstanding Musicianship Awards given to Cooltones players after a performance.  Adjudicator Dave Eshelman, jazz trombonist, composer, arranger, band-leader and Professor Emeritus said, "Kathy is a true pleasure to listen to—nice voice, good diction and pitch, confidence and stage presence, very entertaining…"
Adudicator, saxophonist, flutist, composer and educator   Dann Zinn said, "Kathy delivers a song with confidence, emotion and great rhythmic sense—very enjoyable to listen to."
Background
Kathy grew up in a diverse musical environment that she says, "nurtured my appreciation for all genres." Her mother and sister are opera singers, her father is an avid jazz fan and her brother a self-taught blues and rock musician. In her youth, Blackburn experimented with piano, clarinet and guitar, mainly folk music, while developing an affinity for urban blues, thanks to her younger brother, who she says "played in a college band called 'Ghandi and the Mojos' that played a lot of BB King and Muddy Waters."
She recalls, "I don't remember thinking about musical genres, I just gravitated to what I liked. When I was in high school, I picked up a Dave Brubeck album off my parents' stereo and used it to audition for a dance recital, not knowing it was jazz, just thinking it was pretty cool music. I didn't get into the show but that was no reflection on Brubeck, he was probably the best part of the audition."
After earning her teaching credential and graduating from college, she brought music into her professional life, playing guitar in the classroom and later, using music to "make corporate life more fun" as a Public Affairs executive. Blackburn spent the majority of her career as the public spokesperson for corporate, government and non-profit healthcare employers, earning her MBA along the way.
As columnist Caroompas says, "I've always loved her voice, and now it's got a confidence and style that only enhances the clarity of tone and effusiveness that was already there all along."